MLB's all-drafted after the fifth round team: Albert Pujols, Mike Piazza, Nolan Ryan and other hidden gems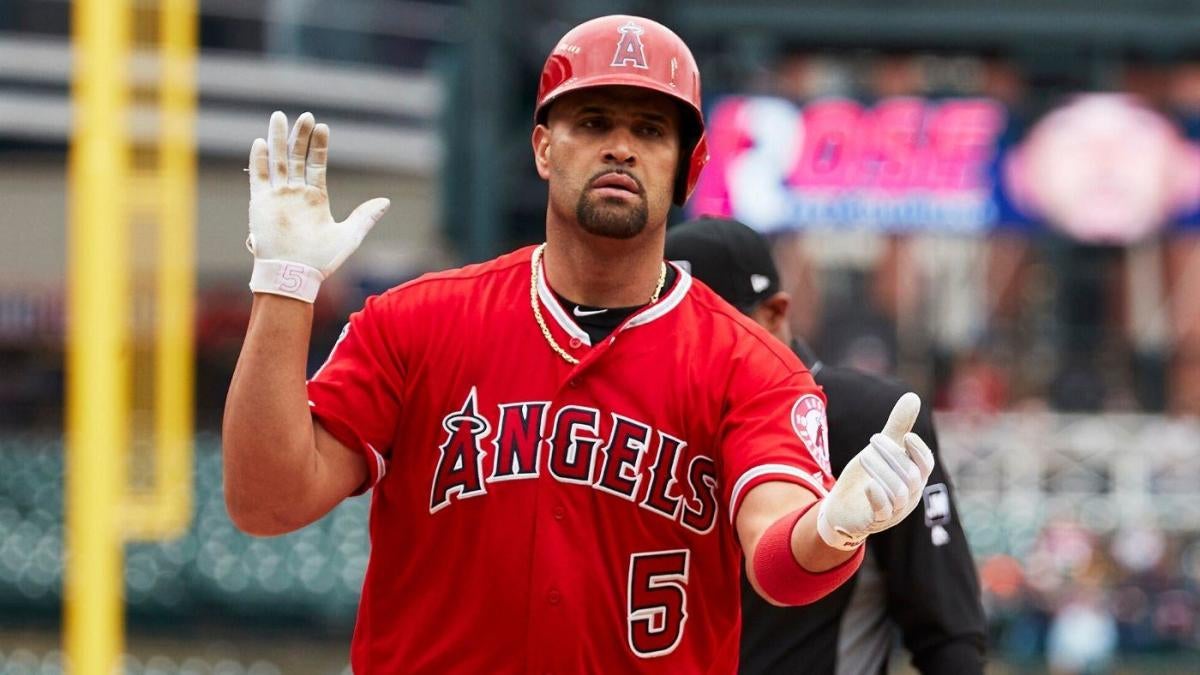 The MLB draft — known variously as the first-year player draft or the Rule 4 draft — has been a part of baseball since 1965. While the parameters have shifted to and fro over the years, it's always been a sprawling affair. That first draft had more than 70 rounds. For years, it was 50 rounds, and in recent editions it's been whittled down to 40 rounds. 
This year, though, the draft will be more compressed than ever. Thanks notionally to the ongoing COVID-19 pandemic, MLB and the Players Association have agreed to limit the 2020 MLB draft to just five rounds — the shortest ever by a wide margin. While non-drafted players can still sign pro contracts, their bonuses will be limited to $20,000. More than a response to coronavirus, this is really a way for MLB team owners to reduce labor costs. All of this is bad news for amateur baseball players, but it also could mean a loss of talent for game itself. Sure, some of the overlooked players will make their way to organized baseball even if they're not drafted in 2020, but the lack of those late-round flyers means that some hidden talents may remain hidden forever. 
To give you an idea of what kind of players have been out there beyond the fifth round, we've put together an all-time team of players drafted in the sixth round or later. You'll find that this ad hoc squadron is peppered with Hall of Famers and some of the best players the sport has ever seen. If you like, consider it a cautionary tale of what happens when you limit teams' pathways for finding baseball talent. 
Catcher: Mike Piazza
62nd round, 1988, Dodgers
You're aware of the Piazza creation story by now. The Dodgers drafted him late as a favor to family friend Tommy Lasorda, the godfather of Piazza's younger brother, and signed him for $15,000. He went on to become perhaps the best offensive catcher in MLB history (427 home runs and a career OPS+ of 142), and he went into the Hall of Fame in 2016 on the fourth ballot. Consider this to be the greatest draft pick in MLB history. 
Also of note: Darren Daulton (25th round, 1980, Phillies), Jorge Posada (24th round, 1990, Yankees), Gene Tenace (20th round, 1965, Royals)
First base: Albert Pujols
13th round, 1999, Cardinals
A Rays scout famously tried to persuade his team to take Pujols earlier in the draft, but he wound up falling to the Cardinals in the 13th round. The three-time MVP will go into the 2020 season with more than 650 home runs and more than 3,200 hits. He's one of the great right-handed hitters of all-time. 
Also of note: Jack Clark (13th round, 1973, Giants), Paul Goldschmidt (eighth round, 2009, Diamondbacks), Mark Grace (24th round, 1985, Cubs), Keith Hernandez (42nd round, 1971 Cardinals), Don Mattingly (19th round, 1979, Yankees), Fred McGriff (ninth round, 1981, Yankees), Anthony Rizzo (sixth round, 2007, Red Sox)
Second base: Ryne Sandberg
20th round, 1978, Phillies
Sandberg was an accomplished three-sport athlete in high school, and he slipped in the MLB draft only because teams were wary of his commitment to play football for Washington State. The Phillies took a chance in the 20th round, and after some family deliberation Sandberg signed with them. In January of 1982, the Phillies packaged him with Larry Bowa and traded him to the Cubs in exchange for Ivan DeJesus. With Chicago, Sandberg would go on to make the All-Star team 10 times and win nine Gold Gloves and the 1984 NL MVP award. He was voted into the Hall of Fame in 2005. 
Also of note: Howie Kendrick (10th round, 2002, Angels), Jeff Kent (20th round, 1989, Blue Jays), Ian Kinsler (17th round, 2003, Rangers), Placido Polanco (19th round, 1994, Cardinals), Willie Randolph (seventh round, 1972, Pirates)
Third base: Wade Boggs
Seventh round, 1976, Red Sox
Coming out of high school, Boggs seemed bound to play football for the University of South Carolina. That's especially the case since the Major League Scouting Bureau termed Boggs a non-prospect. The Red Sox took a seventh-round chance on him, though, and Boggs wound up signing for just $7,500. Within his first seven big-league seasons, he won five batting titles. Boggs went to pile up 3,010 career hits (and 1,412 walks) en route to making the Hall of Fame in 2005. 
Also of note: Sal Bando (sixth round, 1965, A's), Buddy Bell (16th round, 1969, Indians), Matt Carpenter (13th round, 2009, Cardinals), Jeff Cirillo (11th round, 1991, Brewers), Justin Turner (seventh round, 2006, Reds)
Shortstop: Marcus Semien
Sixth round, 2011, White Sox
Here's our second active member of the team, and as you've probably guessed the shortstop crop isn't as strong as that of the positions already covered. Semien is the rare "redrafted by the same team" guy. The White Sox first spent a 34th-round pick on Semien in 2008 when he was coming out of high school. Then they called his name again in 2011 with a sixth-round selection when he was coming out of Cal. The second time, Semien signed for $130,000. Now with the A's (he was traded to Oakland in December of 2014 as part of the Jeff Samardzija swap), Semien has racked up a WAR of 21.4 across parts of seven major-league seasons. Semien's worked to improve his skills with the glove and the bat, and he should add significantly to that tally in the coming years. 
Also of note: Nick Punto (21st round, 1998, Phillies)
Outfield: Jim Edmonds
Seventh round, 1988, Angels
Coming out of Diamond Bar High School in Southern California, Edmonds earned high marks for his power potential. However, one scouting report pointedly read, "OFF FIELD HABITS MUST IMPROVE INDULGED CHILD." That same scouting report projected Edmonds as a primary left fielder or first baseman. The nearby Angels took him in the seventh, and despite some early concerns about attitude and work habits, Edmonds was highly productive for them. However, it was following a March 2000 trade to the Cardinals that Edmonds achieved sustained greatness. In 17 MLB seasons, Edmonds batted .284/.376/.527 with 393 home runs. He also won eight Gold Gloves as a standout center fielder. 
Outfield: Kenny Lofton
17th round, 1988, Astros
Lofton's focus was on basketball early on, and he wound up at the University of Arizona on a hoops scholarship (and was the sixth man on their 1988 Final Four team). He also played baseball for Arizona, and the Astros drafted and signed him soon thereafter. Lofton didn't give baseball his full focus until he played his senior season as Arizona's starting point guard. Once he did, though, he took off. In December of 1991, the Astros traded him to the Indians, and in Cleveland Lofton would become one of MLB's top leadoff hitters. He spent 17 seasons in the majors, and he ended his career with a 107 OPS+, 622 stolen bases, and many years of being an elite defensive center fielder. 
Outfield: Andre Dawson
11th round, 1975, Expos
A knee injury ended his promising football career in high school, so Dawson focused on baseball at Florida A&M. After inking with the Expos, he went on to hit 438 home runs, steal 314 bases, claim eight Gold Gloves, and win the 1987 NL MVP award as a member of the Cubs. Dawson made the Hall of Fame on the ninth ballot in 2010. 
Also of note: Jesse Barfield (ninth round, 1977, Blue Jays), Michael Brantley (seventh round, 2005, Brewers), Brett Butler (23rd round, 1979, Braves), Lorenzo Cain (17th round, 2004, Brewers), Mike Cameron (18th round, 1991, White Sox), Jose Canseco (15th round, 1982, A's), Eric Davis (eighth round, 1980, Reds), Brian Giles (17th round, 1989, Indians), Ken Griffey Sr. (29th round, 1969, Reds), Dave Parker (14th round, 1970, Pirates)
Designated hitter: Jim Thome
13th round, 1989, Indians
One of the great left-handed power hitters in the annals of the game, Thome played baseball and basketball in junior college. While he showed plenty of skills at the plate at the JuCo level, he was a bit overlooked (believe it or not, he was a shortstop in those days). The Indians' faith was rewarded, though, as Thome went on to mash 612 home runs and draw more than 1,700 walks in a 22-year career. In 2018, he went into the Hall of Fame on the first ballot.
Also of note: Chili Davis (11th round, 1977, Giants), Travis Hafner (31st round, 1996, Rangers), Raul Ibanez (36th round, 1992, Mariners), J.D. Martinez (20th round, 2009, Astros)
Starting pitcher: Nolan Ryan
12th round, 1965, Mets
Today we think of Ryan as the age-defying moundsman who won more than 300 games, struck out more batters than anyone else, authored seven no-hitters, and pitched until age 46. When the very first MLB draft rolled around, however, Ryan wasn't a particularly hot property. As Talmadge Boston explains in a piece for SABR, the Mets scouted one of Ryan's late-season starts for Alvin High School during his senior year. However, the previous day Ryan and his teammates had been put through a near endless battery of wind sprints as punishment for a lack of attention. An exhausted Ryan took the mound and was far from his usual self. The Mets wound up calling his name, but it wasn't until the 12th round — far later than Ryan's legendary fastball merited. He appeared briefly in the majors the very next season and went on to be a Hall of Famer. 
Starting pitcher: John Smoltz
22nd round, 1985, Tigers
Smoltz had mound skills befitting a coveted draftee. However, once he received a scholarship offer to pitch for his hometown Michigan State Spartans, evaluators began to see him as a difficult sign. That caused him to fall until the Tigers nabbed the Michigan native with the 574th pick. He signed the night before he was to begin classes at Michigan State. In a much-lamented deal, the Tigers in August 1987 traded Smoltz to the Braves for Doyle Alexander. On Atlanta's watch, Smoltz became a Hall of Famer. Smoltz became an elite starter in the mid-1990s, and returned after a major injury to become an elite closer. In the end, he wound up with 213 wins; more than 3,000 strikeouts; a WAR of 66.4; and a Cy Young award. 
Starting pitcher: Andy Pettitte 
22nd round, 1990, Yankees
Pettitte didn't have elite velocity coming out of high school, and teams also figured he was headed to college. The Yankees took him with the 594th pick as a "draft and follow" selection. That procedural wrinkle (that is not longer with us) gave them an extra year to sign the player in question. Pettitte pitched the following season at the junior college level, and then the Yankees signed him for $80,000. He went on to win 256 games in the majors, and he put together a similarly impressive postseason body of work. 
Starting pitcher: Mark Buehrle 
38th round, 1998, White Sox
Not bad results for the 1,139th pick of the draft. Like Pettitte, Buehrle was a draft-and-follow choice, and he eventually signed for $167,000 out of a Missouri junior college. In the majors, Buehrle put together 14 straight seasons of at least 200 innings pitched and 15 straight seasons of at least 30 starts. Along the way, the soft-tossing lefty won four Gold Gloves and put up a WAR of 60.
Starting pitcher: Tim Hudson
Sixth round, 1997, A's
Hudson was a two-way star for Auburn, as he started in the outfield when not on the mound. In his second season at Auburn, Hudson was named an All-American and became the first player to be named first team All-SEC at two different positions in the same season. Because he was 21 years of age, Hudson was a draft-eligible sophomore, and the A's nabbed him with pick No. 185. He went on to work more than 3,000 innings with an ERA+ of 120 and four All-Star appearances. 
Also of note: Jacob deGrom (ninth round, 2010, Mets), Orel Hershiser (17th round, 1979, Dodgers), Charlie Hough (eighth round, 1966, Dodgers), Jamie Moyer (sixth round, 1984, Cubs), Roy Oswalt (23rd round, 1996, Astros), Brad Radke (eighth round, 1991, Twins), Kenny Rogers (39th round, 1982, Rangers), Bret Saberhagen (19th round, 1982, Royals)
Closer: Goose Gossage
Ninth round, 1970, White Sox
Gossage had a big fastball even in high school, but perhaps because he was in what was at the time an under-scouted part of the country (Colorado) he lasted until the ninth round. Gossage eventually established himself as one of the great relief aces in MLB history. Across 22 seasons, Gossage compiled 310 saves (in an era in which saves were much harder to come by) and had an ERA+ of 126. Of his 965 relief appearances, 555 lasted longer than one inning.
Also of note: Dellin Betances (eighth round, 2006, Yankees), Robb Nen (32nd round, 1987, Rangers), Sergio Romo (28th round, 2005, Giants)
require.config({"baseUrl":"https://sportsfly.cbsistatic.com/fly-687/bundles/sportsmediajs/js-build","config":{"version":{"fly/components/accordion":"1.0","fly/components/alert":"1.0","fly/components/base":"1.0","fly/components/carousel":"1.0","fly/components/dropdown":"1.0","fly/components/fixate":"1.0","fly/components/form-validate":"1.0","fly/components/image-gallery":"1.0","fly/components/iframe-messenger":"1.0","fly/components/load-more":"1.0","fly/components/load-more-article":"1.0","fly/components/load-more-scroll":"1.0","fly/components/loading":"1.0","fly/components/modal":"1.0","fly/components/modal-iframe":"1.0","fly/components/network-bar":"1.0","fly/components/poll":"1.0","fly/components/search-player":"1.0","fly/components/social-button":"1.0","fly/components/social-counts":"1.0","fly/components/social-links":"1.0","fly/components/tabs":"1.0","fly/components/video":"1.0","fly/libs/easy-xdm":"2.4.17.1","fly/libs/jquery.cookie":"1.2","fly/libs/jquery.throttle-debounce":"1.1","fly/libs/jquery.widget":"1.9.2","fly/libs/omniture.s-code":"1.0","fly/utils/jquery-mobile-init":"1.0","fly/libs/jquery.mobile":"1.3.2","fly/libs/backbone":"1.0.0","fly/libs/underscore":"1.5.1","fly/libs/jquery.easing":"1.3","fly/managers/ad":"2.0","fly/managers/components":"1.0","fly/managers/cookie":"1.0","fly/managers/debug":"1.0","fly/managers/geo":"1.0","fly/managers/gpt":"4.3","fly/managers/history":"2.0","fly/managers/madison":"1.0","fly/managers/social-authentication":"1.0","fly/utils/data-prefix":"1.0","fly/utils/data-selector":"1.0","fly/utils/function-natives":"1.0","fly/utils/guid":"1.0","fly/utils/log":"1.0","fly/utils/object-helper":"1.0","fly/utils/string-helper":"1.0","fly/utils/string-vars":"1.0","fly/utils/url-helper":"1.0","libs/jshashtable":"2.1","libs/select2":"3.5.1","libs/jsonp":"2.4.0","libs/jquery/mobile":"1.4.5","libs/modernizr.custom":"2.6.2","libs/velocity":"1.2.2","libs/dataTables":"1.10.6","libs/dataTables.fixedColumns":"3.0.4","libs/dataTables.fixedHeader":"2.1.2","libs/dateformat":"1.0.3","libs/waypoints/infinite":"3.1.1","libs/waypoints/inview":"3.1.1","libs/waypoints/jquery.waypoints":"3.1.1","libs/waypoints/sticky":"3.1.1","libs/jquery/dotdotdot":"1.6.1","libs/jquery/flexslider":"2.1","libs/jquery/lazyload":"1.9.3","libs/jquery/maskedinput":"1.3.1","libs/jquery/marquee":"1.3.1","libs/jquery/numberformatter":"1.2.3","libs/jquery/placeholder":"0.2.4","libs/jquery/scrollbar":"0.1.6","libs/jquery/tablesorter":"2.0.5","libs/jquery/touchswipe":"1.6.18","libs/jquery/ui/jquery.ui.core":"1.11.4","libs/jquery/ui/jquery.ui.draggable":"1.11.4","libs/jquery/ui/jquery.ui.mouse":"1.11.4","libs/jquery/ui/jquery.ui.position":"1.11.4","libs/jquery/ui/jquery.ui.slider":"1.11.4","libs/jquery/ui/jquery.ui.sortable":"1.11.4","libs/jquery/ui/jquery.ui.touch-punch":"0.2.3","libs/jquery/ui/jquery.ui.autocomplete":"1.11.4","libs/jquery/ui/jquery.ui.accordion":"1.11.4","libs/jquery/ui/jquery.ui.tabs":"1.11.4","libs/jquery/ui/jquery.ui.menu":"1.11.4","libs/jquery/ui/jquery.ui.dialog":"1.11.4","libs/jquery/ui/jquery.ui.resizable":"1.11.4","libs/jquery/ui/jquery.ui.button":"1.11.4","libs/jquery/ui/jquery.ui.tooltip":"1.11.4","libs/jquery/ui/jquery.ui.effects":"1.11.4","libs/jquery/ui/jquery.ui.datepicker":"1.11.4"}},"shim":{"liveconnection/managers/connection":{"deps":["liveconnection/libs/sockjs-0.3.4"]},"liveconnection/libs/sockjs-0.3.4":{"exports":"SockJS"},"libs/setValueFromArray":{"exports":"set"},"libs/getValueFromArray":{"exports":"get"},"fly/libs/jquery.mobile-1.3.2":["version!fly/utils/jquery-mobile-init"],"libs/backbone.marionette":{"deps":["jquery","version!fly/libs/underscore","version!fly/libs/backbone"],"exports":"Marionette"},"fly/libs/underscore-1.5.1":{"exports":"_"},"fly/libs/backbone-1.0.0":{"deps":["version!fly/libs/underscore","jquery"],"exports":"Backbone"},"libs/jquery/ui/jquery.ui.tabs-1.11.4":["jquery","version!libs/jquery/ui/jquery.ui.core","version!fly/libs/jquery.widget"],"libs/jquery/flexslider-2.1":["jquery"],"libs/dataTables.fixedColumns-3.0.4":["jquery","version!libs/dataTables"],"libs/dataTables.fixedHeader-2.1.2":["jquery","version!libs/dataTables"],"https://sports.cbsimg.net/js/CBSi/app/VideoPlayer/AdobePass-min.js":["https://sports.cbsimg.net/js/CBSi/util/Utils-min.js"]},"map":{"*":{"adobe-pass":"https://sports.cbsimg.net/js/CBSi/app/VideoPlayer/AdobePass-min.js","facebook":"https://connect.facebook.net/en_US/sdk.js","facebook-debug":"https://connect.facebook.net/en_US/all/debug.js","google":"https://apis.google.com/js/plusone.js","google-platform":"https://apis.google.com/js/client:platform.js","google-csa":"https://www.google.com/adsense/search/async-ads.js","google-javascript-api":"https://www.google.com/jsapi","google-client-api":"https://apis.google.com/js/api:client.js","gpt":"https://securepubads.g.doubleclick.net/tag/js/gpt.js","mpx":"libs/tpPdk","newsroom":"https://c2.taboola.com/nr/cbsinteractive-cbssports/newsroom.js","recaptcha":"https://www.google.com/recaptcha/api.js?onload=loadRecaptcha&render=explicit","recaptcha_ajax":"https://www.google.com/recaptcha/api/js/recaptcha_ajax.js","supreme-golf":"https://sgapps-staging.supremegolf.com/search/assets/js/bundle.js","taboola":"https://cdn.taboola.com/libtrc/cbsinteractive-cbssports/loader.js","twitter":"https://platform.twitter.com/widgets.js","video-utils":"https://sports.cbsimg.net/js/CBSi/util/Utils-min.js"}},"waitSeconds":300});